GALAXY GAMES PRIVACY POLICY
Galaxy Games respects the privacy of its customers, and other individuals and businesses using the Web sites owned and operated by Galaxy Games and its affiliates ("Galaxy Games Sites"). This updated Privacy Policy effective 01/30/2023, is to keep you informed about the types of information collected on Galaxy Games Sites and how the information is used and protected. The revised Privacy Policy includes information about advertisements on Galaxy Games Sites and access to your account information.
Galaxy Games protects the privacy of its customers consistent with the regulations issued by the Federal Communications Commission.
There is one type of information that may be exchanged between the Galaxy Games Site and the user during each visit to a Galaxy Games Site. It is:
Personally identifiable information that you voluntarily share. The types of personally identifiable information that you might share include your name, address, phone number, e-mail address and credit card number.
ANONYMOUS INFORMATION
In order to provide you with the information and services that you look for from the Galaxy Games Sites, Galaxy Games gathers certain types of information from you that are not personally identifiable.
This is called anonymous information and includes:
The type of Internet browser you use when you visit
The types of computer operating system you us
The search engine you use to access the Galaxy Games Sites (such as "AOL.com," "Yahoo.com" or "Go.com")
The specific Galaxy Games Site that you visit (Galaxy Games.co, digitalhitzfactory.com, etc.).
The anonymous information collected is not associated with you personally or your business. Galaxy Games uses this anonymous information in the aggregate to improve Galaxy Games Sites and the services we provide through those sites.
USE OF COOKIES
Galaxy Games Sites may use "cookies" to collect the anonymous information described in this Privacy Policy. Cookies are bits of encrypted data that are loaded by Galaxy Games's server onto your computer when you visit a Galaxy Games Site. The server can retrieve the cookies the next time you visit a site and use them to identify the computer as a return visitor. Galaxy Games uses cookies to collect non-personally identifiable information and generically track usage patterns on the Galaxy Games Sites in order to monitor activity and administer the sites. Galaxy Games also uses information obtained from cookies to improve Galaxy Games Sites, and make decisions concerning advertising, product offerings and services. Most users can disable cookies from their Internet browsers, receive a warning before a cookie is placed on their computer, and erase all cookies from their computer hard drives by following the instructions provided by the browser.
ADVERTISEMENTS ON Galaxy Games SITES
Advertising companies may deliver ads on some Galaxy Games Sites. You should be aware that when you click on these ads, the advertising companies may also deploy cookies to receive anonymous information about ad viewing by Internet users on Galaxy Games Sites and other Web sites. This information is associated with your Web browser but cannot be associated with your name or e-mail address without your permission. Therefore, advertising companies may know where your computer goes on the Web, but they do not know who you are unless you tell them. Galaxy Games does not provide personally identifiable information about its customers or Galaxy Gamest Site visitors to these advertising companies.
PERSONALLY IDENTIFIABLE INFORMATION
Galaxy Gamest may ask you to provide what is often referred to as "personally identifiable information" such as your name, address, telephone number and e-mail address when you use Galaxy Games Sites to: purchase a service or product online, enter a contest or sweepstakes, ask to receive information, respond to a survey, register with a Galaxy Games Site, access your account, ask for a personalized service, request customer service online, or apply for a job. You always have the alternative of mailing or calling Galaxy Games with the information requested if you do not wish to provide it online. Personally, identifiable information provided at a Galaxy Games Site to order Galaxy Games services other than Internet services will be protected in the same manner as when the information is provided by other means such as over the telephone or by mail. We protect customer information obtained from Galaxy Games's local, long distance and carrier customers consistent with federal laws governing telecommunications services and with regulations issued by the Federal Communications Commission.
We use personally identifiable information provided at a Galaxy Games Site in the following ways unless otherwise specified:
For its intended purpose (such as to complete an online order for service),
To provide you with information about new Galaxy Games products and services or products and services offered in conjunction with Galaxy Games business partners.
DISCLOSURE TO THIRD PARTIES
Galaxy Games will not sell or disclose to outside parties any personally identifiable information obtained from a Galaxy Games online service or the registration at a Galaxy Games Site without your consent except under the following circumstances:
When required by law,
When disclosure is necessary to protect the safety of a customer, third party or Galaxy Games' property,
If it is required in connection with any sale or transfer of all or a portion of Galaxy Games's assets.
When Galaxy Games uses agents, contractors or other companies to perform services on its behalf,Galaxy Games will require that they protect your personally identifiable information consistent with this Privacy Policy. Galaxy Games may share the anonymous information described in this Privacy Policy with third parties from time-to-time.
E-MAIL COMMUNICATIONS
E-mail is an increasingly popular communication tool through which you and your business may communicate with Galaxy Games. Likewise, Galaxy Games may use e-mail to communicate with you, respond to your e-mail, and to tell you about new products and services. If you do not wish to receive e-mail promotions and new products and service announcements from Galaxy Games, please follow the instructions that appear at the end of the e-mail communication that you receive from Galaxy Games to have your name removed from the list.
SECURITY
Galaxy Games utilizes several encryption methods to ensure that the data you submit on any of the Galaxy Games Sites is secure. Through this "secure session," information that you input into a Galaxy Games online order form will be sent and will arrive privately and unaltered at a Galaxy Games server. This security prohibits access to your information by other companies and Web users.
CHILDREN
becomes aware that a user who is under 18 is using a Galaxy Games Site, Galaxy Games will specifically instruct that individual that they are not to submit information on Galaxy Games Sites without a parent or guardian's consent. If a child has provided Galaxy Games with personally identifiable information without Galaxy Games 's knowledge, a parent or guardian of the child may contact Galaxy Games at contact@galaxygames.co and Galaxy Games will delete the child's information from our existing files.
LINKS
Some Galaxy Games Sites contain links to other Web sites that are owned and operated by parties other than Galaxy Games. Please be aware that this Privacy Policy does not extend to any Web sites other than those owned and controlled by Galaxy Games.
ACCOUNT INFORMATION
You may always contact us at contact@galaxygames.co, by telephone or mail to verify your name, address, e-mail address, telephone number and/or billing information. Galaxy Games will correct any information that is inaccurate.
QUESTIONS
If you have questions or comments regarding this Privacy Policy, you may contact us at contact@galaxygames.co If you have submitted personally identifiable information, and would like that information deleted from our records, please contact us at our e-mail address, contact@galaxygames.co. We will use reasonable efforts to delete that information from our files.
UPDATES
Galaxy Games may amend this Privacy Policy from time-to-time. These changes will be posted online.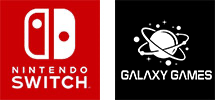 2023 Galaxy Games. All Rights Reserved.